An Ecological Sampling Exercise
Processing & Interpreting Raw Data
The Effect of Management on Bluebell Distribution on a Former Woodland Site

Introduction

This exercise presents a sample of raw data as well as an activity based on the data. It will give students an opportunity to practice handling data and interpreting sampling results. In order to interpret the results, students will need to search this website to obtain background information. In particular, they are advised to look at the Heathland Restoration Project. This project is restoring an area of heathland at the Woodland Education Centre, which is in South-west England.

The raw data presented here was collected by students during a practical ecological sampling exercise on the Heathland Restoration Project area. The students were investigating the effect of different types of management on Bluebell survival. The Bluebells, which are a woodland indicator species, are a relic of the woodland which formerly covered the project site.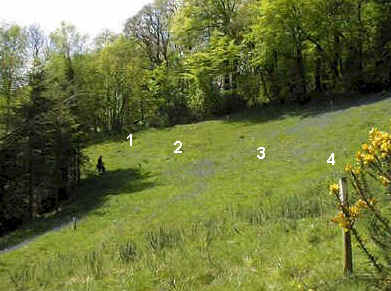 The Heathland Restoration Project Area.
Looking south, from point A in the diagram below, across sections 1 to 4
The Heathland Restoration area at Offwell was cleared of woodland and Rhododendron in 1993. It was divided into a number of longitudinal strips which are managed in different ways (Table). The different management regimes were initiated in 1995.

When management was initiated, Bluebells covered extensive areas of the project site, particularly in strips 1 - 4. Two of these four strips are brushcut in the spring, soon after the bluebells have flowered, while two of the strips are cut in the autumn. All the cuttings are removed from the area to prevent smothering of remaining plants and enrichment of the soil through decay.
.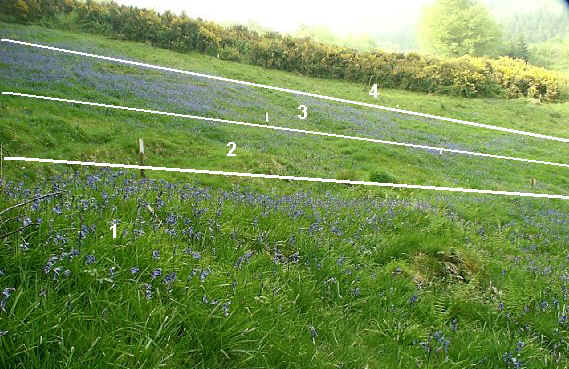 Sections 1 - 4 looking North-east
Ecological surveys of strips 1 - 4 for the years 1996 - 1998 suggested that Bluebells were declining in the strips which were cut in the spring.
The theory that Bluebell numbers were lower in strips which were cut in the spring, as opposed to those cut in the autumn, was tested by students of Axe Valley Community College. The data was collected in the spring, seven years after the initiation of the different management regimes in the strips.
Continue to data collection method here

Thanks are due to Dr Wendy Graham and the Axe Valley Community College,
for permission to publish the raw data and follow-up exercise.