Operations commenced as emergency repair work to the Southern Lake dam which had been breached by storm water. A sluice was installed together with an extensive Gabion basket structure complete with "Reno" mattresses and geotextile fabric. A similarly constructed separate spillway was built to accommodate excess storm water to prevent any further flood damage. This was topped off by a 7 metre Galloway bridge to Countryside Commission specifications.
Major clearance of the massive rhododendron growth then took place. The work gang was composed of 17 full and part time workers. In 1991excavation began on the Southern lake to remove silt which had reduced the lake to less than one-third of its original area.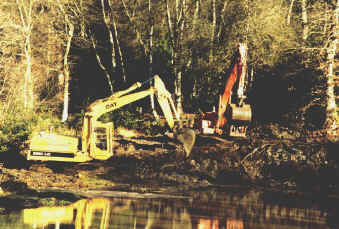 Swing shovels clear tonnes of silt
from the Southern Lake bed.
Clearance of the rhododendron began on the northern lake in 1988. This work was divided into two sections as a track built in 1960 now ran midway across the lake. The upper part of which has now become Kingfisher Pond. At the time it had completely dried up. It was excavated and a gabion basket structure was built to control the water level.
In the larger section below the track, work began to create a graded series of shallow water habitats, comprising an open water, swamp, marsh, dry land transition. This was accomplished by further rhododendron clearance. In March 1989 the dam was repaired by installing a Gabion basket structure to create a spillway. This is now the Wetland Area.
A small Marsh area was created in the cleared area between the two original boating lakes.