The Wet Woodland Survey
Individual Area Results
Cherry Area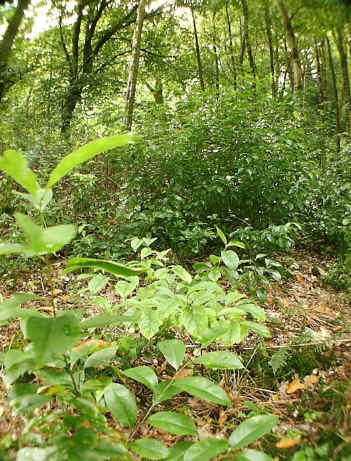 General Description of Survey Area
The Cherry Area is quite stony with a shallow soil and is situated on a gentle east facing slope. The slope means that the Cherry Area is quite dry with the stones and shallow soil providing good drainage. The Cherry Area has tall, broad-leaved tree cover with a dense shrub layer of non-native cherry. Sunlight is largely prevented from reaching the ground by the dense growth of non-native cherry. This stops many other plant species from growing.
Ground Level Plant Survey Results
N.B. Species names highlighted in green below are mosses.
| | | | | | | | | | |
| --- | --- | --- | --- | --- | --- | --- | --- | --- | --- |
| Species | Common Name | | 1 | 2 | 3 | 4 | 5 | 6 | Mean |
| | Leafy Liverwort (indeterminate) | Max. Ht | | | | | | | |
| | | % Cover | 1 | 1+1 | 1 | 0 | 1 | 1 | 1 |
| | | | | | | | | | |
| Polytrichum formosum Hedw. | | Max. Ht | | | | | | | |
| | | % Cover | 4 | 0 | 0 | 0 | 1 | 0 | 0.8 |
| | | | | | | | | | |
| Dicranum scoparium Hedw. | | Max. Ht | | | | | | | |
| | | % Cover | 7 | 0 | 0 | 0 | 0 | 0 | 1.2 |
| | | | | | | | | | |
| Mnium hornum Hedw. | | Max. Ht | | | | | | | |
| | | % Cover | 0 | 0 | 1 | 0 | 0 | 2 | 0.5 |
| | | | | | | | | | |
| Thuidium tamariscinum (Hedw.) B., S & G. | | Max. Ht | | | | | | | |
| | | % Cover | 0 | 0 | 0 | 6 | 0 | 5 | 1.8 |
| | | | | | | | | | |
| Eurhynchium praelongum (Hedw.) B. & S. | | Max. Ht | | | | | | | |
| | | % Cover | 0 | 0 | 1 | 0 | 0 | 0 | 0.2 |
| | | | | | | | | | |
| Hypnum cupressiforme Hedw. | | Max. Ht | | | | | | | |
| | | % Cover | 1 | 10 | 1 | 3 | 1 | 9 | 4.2 |
| | | | | | | | | | |
| Hypnum andoi Brid. | | Max. Ht | | | | | | | |
| | | % Cover | 0 | 1 | 1 | 0 | 6 | 1 | 1.5 |
| | | | | | | | | | |
| Dryopteris dilitata (Hoffm.) A. Gray | Broad Buckler Fern | Max. Ht | | 20 | | | | | 20 |
| | | % Cover | 0 | 13 | 0 | 0 | 0 | 0 | 2.2 |
| | | | | | | | | | |
| Quercus sp. | Oak sp. | Max. Ht | | | 5 | | | 15 | 10 |
| | | % Cover | 0 | 0 | 1 | 0 | 0 | 1 | 0.3 |
| | | | | | | | | | |
| Ilex aquifolium L. | Common Holly | Max. Ht | | 10 | | 3 | 5 | | 6 |
| | | % Cover | 0 | 1 | 0 | 1 | 1 | 0 | 0.5 |
| | | | | | | | | | |
| Rubus fruticosus agg. | Bramble, Blackberry | Max. Ht | | | | 15 | | | 15 |
| | | % Cover | 0 | 0 | 0 | 1 | 0 | 0 | 0.2 |
| | | | | | | | | | |
| Prunus sp. | Non-Native Cherry | Max. Ht | | 20 | 50 | 200 | 20 | 5 | 59 |
| | | % Cover | 0 | 5 | 4 | 100 | 1 | 1 | 18.5 |
No. of Samples taken in Area

Total No. of Species Present in Samples of Area

Dominant Species in Area
(those with highest mean % cover)

Mean % Cover

Mean Maximum Height (cm)

6

13

1st

Prunus sp.
Non-Native Cherry

18.5

59

2nd

Hypnum cupressiforme Hedw.

4.2

-

3rd

Dryopteris dilatata (Hoffm.) A.Gray
Broad Buckler Fern

2.2

20
Mature Tree Survey

Survey includes all trees greater than 2m in height.

Species of Tree

Percentage Frequency

Max. tree height

Betula pendula Roth
Silver Birch

72
34.8m

Castanea sativa Mill.
Sweet Chestnut

4
13.2m

Quercus sp.
Oak sp.

8
18.2m

Fagus sylvatica L.
Beech

8
24.4m
Fraxinus latifolia
Oregon Ash
4
17.5m
Quercus rubra L.
Red Oak
4
26.4m
Continue & Compare results with other areas